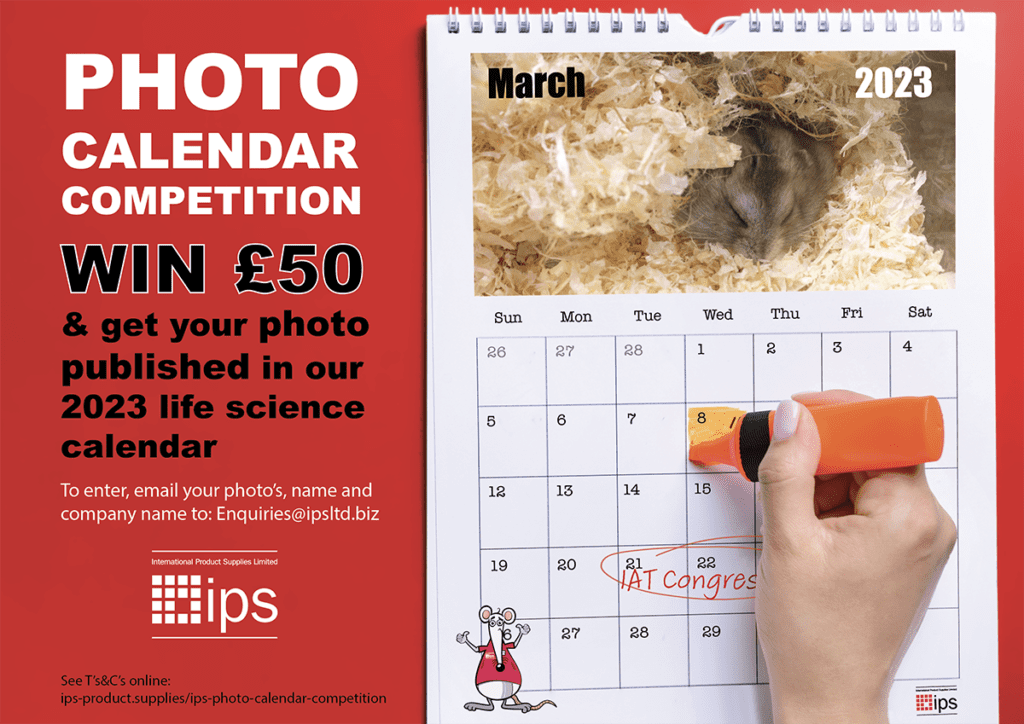 IPS 2023 Calendar Competition 12 Chances to Win a £50 Voucher.
IPS are excited to announce our new Charity Photography Competition!
With Christmas around the corner, we would like to give you chance to win a £50 shopping voucher of your choice.
All you need to do is take a photo that is related to Animal Technology (phone or camera) and send it to us. We will then choose our 12 favourites and use them to produce a 2023 calendar.

By taking part you will also be helping us raise money for The Animals in Science Education Trust. AS-ET is a UK registered charity with the objective of advancing education and promoting excellence in the care and welfare of animals used in science.
Each month of the calendar will be sponsored by a trade company and 100% of the proceeds will be donated to AS-ET

 
Free to enter, simply email your photograph with your name and facility/company name to: enquiries@ipsltd.biz

Your photo must be related to animal technology

A maximum of 5 photographs per person

The deadline for entries is: 31/10/2022

Submissions will not be accepted once the deadline lapses

No limit to the number of entries per person

Winners will be notified by email by 07/11/2022

Please ensure your facility is happy that photos are taken for this purpose

Please do not include people or documents in your photograph

All winning entries and their facility will be acknowledged on the calendar

By entering this competition, you agree to IPS using your photo online and having your photo printed in the IPS calendar with your name and facility/company name.